Sentani Lake Festival Brings The Beauty of West Papua
Festival is a big event to celebrate momentous days or events that are related to cultures, beliefs, traditions and histories. It also means festivities for people. In today's world, festival is a way to develop the cultural tourism and increase the economy. In West Papua, besides Baliem Valley Festival and Asmat Cultural Festival, there is also a popular festival called Sentani Lake Festival.
Sentani Lake Festival is held in Sentani district in Jayapura since 2007. Sentani is a gateway from many places and to all places in Papua, as it has one of the biggest airports, which is the Sentani airport. The livelihood of its people are fishing and sago plantation. Sentani has many natural beauty, one of them is Sentani Lake where the Sentani Lake Festival takes place for several days on June every year. If you like diving, then Sentani would be a great spot for you to dive.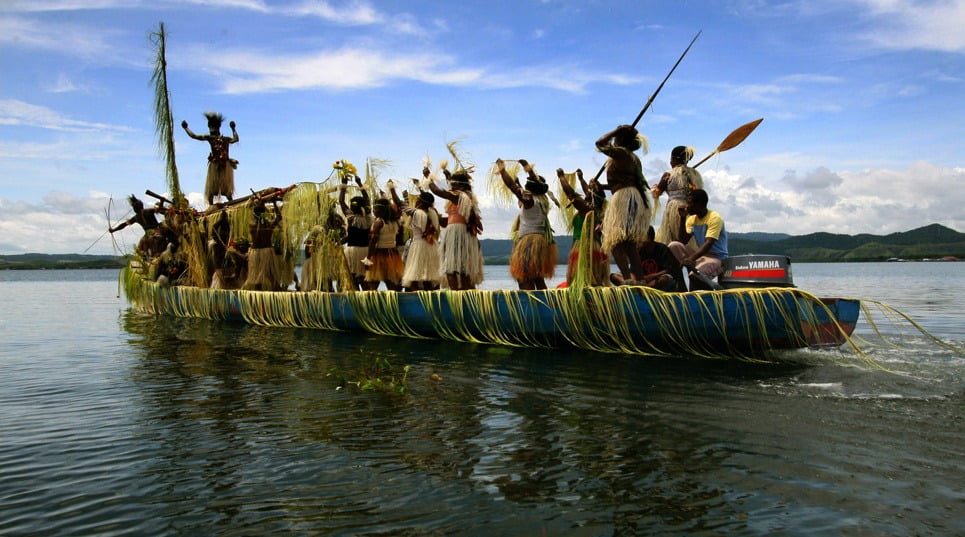 This year, the 9th Sentani Lake Festival was held from 19th to 23rd June 2016 which brings a theme of "Unity in Diversity  to Achieve Excellence", which has the meaning that, because Papua has many tribes, they are all invited to achieve excellence together in harmony and tolerance. Sentani Lake Festival is organized to preserve and promote its local cultures, culinary, crafts, arts and natural beauty.  The main feature of the festival is to gather 24 Papuan tribes who live in the villages of 21 islands around the lake. The total of Papuan tribes are about 466 tribes. Many people have come to Sentani Lake Festival. Not only the tribes in Sentani, but also Papuan people from other tribes outside of Sentani, and also domestic and international tourists.
The opening scene of Sentani Lake Festival is a unique dance which is named Isosolo, meaning a group of people from various places who are expressing their feeling of joy by dancing. It is a magical and colossal dance, performed by the people from Sentani – men and women, old and young – from one village to another. Around hundreds of people were dancing on the boats and a stage next to the lake. Other cultural events that are very interesting to see in this festival are the inauguration of Ondofolo (chief of tribe), performances from other tribes in Timika and also competitions for Sentani Lake Festival such as tourism photo, video, marketing and promotional, articles, tourism branding, and tour package information.
Along with the cultural performances, there were booths where the tribes can display and sell their arts, crafts, and local products such as Papuan batik, chocolate, coffee, buah merah (papuan red fruit), and wood skin paintings.
Cited from the Ministry of Tourism of the Republic of Indonesia site,  the Ministerial expert staff in Multi-culture, Hari Untoro Drajat said, "Tourism can benefit the economy of the people and decrease the urbanization from villages to big cities. Thus, the tourism development should be well prepared, including attractions, access, and amenities".
There are other interesting festivals in Papua. The recent festival that was held in Papua on 18-20 October 2016 was Raja Ampat Festival 2016. Raja Ampat is a fascinating marine paradise and one of the Top World Diving Destination 2017.
Sentani Lake Festival has been giving great impacts in the development of Papua cultural tourism and has increased the economy by making the beauty of West Papua known. Also, through this event, there will be more people who wants to know more about Papua and its potentials. Hopefully, it will also give motivation to the Papuans to preserve their culture in this modern era.
---